30TH SUNDAY IN ORDINARY TIME (YEAR C)
YEAR OF MERCY

The extraordinary Jubilee Year of Mercy
began this week with Pope Francis opening the Holy Door at St Peter's in Rome on the Feast of the Immaculate Conception.
Bishop O'Regan opens a Holy Door in
St Mary's Cathedral, Sale, today.
Here at St. Michael's we have nominated a door as our own holy door, it is designated with the Year of Mercy emblem. A cross has been setup as a prayer focus. You can read about the logo near our reconciliation room which is a particular place to encounter God's mercy. We are invited to experience God's mercy and become "merciful like the Father" (Luke 6:36)



---

PRAYER TO ST MICHAEL

Saint Michael, the Archangel,
defend us in the hour of battle.
Be our safeguard against the wickedness and snares of the devil.
May God restrain him,
we humbly pray; and do thou,
O Prince of the heavenly host,
by the power of God cast into hell Satan and all
the other evil spirits who roam through the world seeking the ruin of souls.
Amen.
Most Sacred Heart of Jesus -
Have mercy on us x 3

---

MISSION SUNDAY APPEAL

$1,378.15 was raised last weekend. "Thankyou"

---

PETITION

Against Labour's Religious Exceptions Bill, available to sign in the foyer.

---

ST BRIGID'S TWILIGHT CARNIVAL

Friday Nov 4 4pm-8pm. See noticeboard for more details.

---

CATHOLICCARE GIPPSLAND

Offer services like: psychology, counselling, family and relationship support, marriage education and family dispute resolution. If you or anyone you know needs any of these services, they can meet with a counsellor in our Parish Support Centre. For consultation please call 5622 1188

---

PRAYER DAY RETREAT (Marian Movement)

Come hear Fr. Hugh Thomas CSsR speak on the theme: "Preparing to celebrate the Centenary of Fatima." Wed Oct 26, 9.30-2.30pm. Mass, Adoration, Rosary, Confession. See noticeboard for further details.
2016 NATIONAL CHURCH LIFE SURVEY

Our parish has been selected to do this survey on 12/13 November. The survey is a valuable source, which reflects the life and health of our parish. It also helps with understanding of the churches role in the wider community.

---

GARABANDAL PRESENTATION

7.30 pm Thur Nov 10 at St Agatha's, 121 Sladen St. Cranbourne. A crucifix kissed by Our Lady during these apparitions will be available for veneration. All welcome. For further information, contact St Agatha's Parish Office on 5996 1985 or Francis and Patricia Seymon on 9459 7151.

---

CATHOLIC THEOLOGICAL COLLEGE

278 Victoria Parade East Melbourne 'Open Day' Wed Nov 2. 4-6 or 6-8 pm. Bookings essential. RSVP by Fri Oct 28. Jenny Delahunt 9412 3314 or jenny.delahunt@ctc.edu.au

---

A DAY FOR PARISH MUSICIANS

Sat 29 Oct, 10am–5pm, Pallotti College. See noticeboard.

---

ST JOSEPH'S COLLEGIUM CHOIR PERFORMS

Sat 5 Nov 6pm, St Joseph's Church, Cnr Melville Road & Hope St. West Brunswick. See noticeboard for details.

---

ANIMA EDUCATION PRESENTS: THE CHURCH THAT SINGS

Nov 7 to Dec 12, Mon 6.30–8.30pm Mary Glowrey House, 132 Nicholson Street, Fitzroy. See noticeboard for details.

---

FEAST OF ST. JUDE

The Parish Community of St Jude's Church, Langwarrin is celebrating the feast of St Jude on Tuesday October 25 with 7pm Mass followed by Benediction, Novena to St Jude and refreshments.

---

FRIENDSHIP GROUP

Thurs Oct 27 lunch outing to the Lynbrook Hotel (1st seating). Cars leaving St. Michael's at 11.30am. "All Welcome". For further information contact: Michael on 8786 9983 or John on 9702 1928

---

DOG'S GRAVE AND BEYOND 4X4 MOUNTAIN TOP EXPERIENCE

Thurs 24 – Sun 27 Nov. Meet at St. Ita's church Newry at 6pm on Thurs night and leave at 6.15. Spend the first night at 'Dog's Grave', travelling there via Dargo. Friday we will head east, travelling to Moscow Villa. Some seats available for those who do not have a 4x4. The trip is self-catering and there is no cost except for a donation towards fuel if you are a passenger. Further details are to be finalised closer to the date, but for any further information. Contact: Don Dwyer:01451415 /0428556636 - christadwyer@aussiebb.com.au

---

TUESDAY

Oct 25 will see some electrical work done in the Church from 8.30am to approx. 5pm.
WEEKEND MASS TIMES

SATURDAY: 9:30 a.m. - 6.00 p.m.
SUNDAY: 9.00 a.m. - 10.30 a.m. - 6.00 p.m.

---

WEEKDAY MASSES

Monday 9:30 a.m.
Tuesday 7.00 p.m.
Wednesday, Thursday, Friday 9.30 a.m.

---

BAPTISM

Will be 2nd, 3rd, and 5th Sundays.

---

RECONCILIATION

Saturday 9.30am — 10.00am & 5.30pm—5.50 pm

---

MARRIAGES

By arrangement with Fr. Jeff. At least 6 months notice is required.
ONLINE ROSTER

You can download the roster by clicking on the appropriate links below;

Mass Times & Directions
Weekend Masses
Saturday: 9:30 a.m. - 6:00 pm
Sunday: 9.00 a.m. - 10.30 a.m. - 6.00 p.m.
Weekend Masses
Monday: 9:30 a.m.
Tuesday: 7.00 p.m.
Wednesday, Thursday, Friday: 9.30 a.m.
Baptism
They will be 2nd, 3rd, and 5th Sundays.
Marriages
By arrangement with Fr. Jeff. At least 6 months notice is required.
Reconciliation
Saturday
9.30am-10.00am
5.30pm-5.50pm.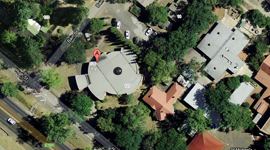 View larger map
119 High Street,
Berwick, 3806
P: 9707 1355
F: 9707 5891
Mon-Fri 9:00am - 3:00pm
Exposition
Wednesday
10 am-11 am